Secure Fencing for Commercial Premises

Our cheap garrison fencing designs are manufactured with your needs in mind. 3 different grades, residential, commercial, and industrial to meet the changing needs of every applicaltion. Then elegance of cheap garrison fencing with ideal power coated finish allows for a maintenance free fence for years to come.
Garrison fencing manufactured for the domestic market is generally unsuitable for commercial applications where security is more important than aesthetics. Whilst there is no reason your commercial fencing should be unattractive, its ability to repel intruders is what makes it so valuable.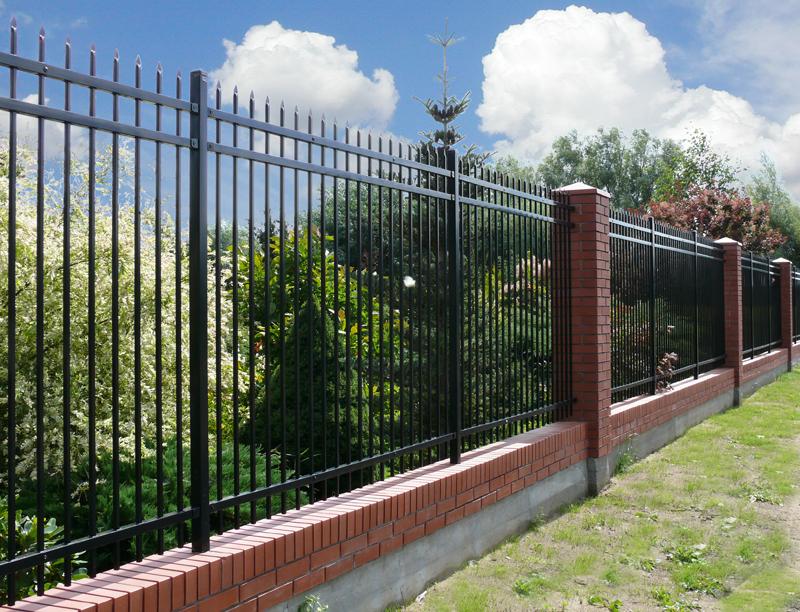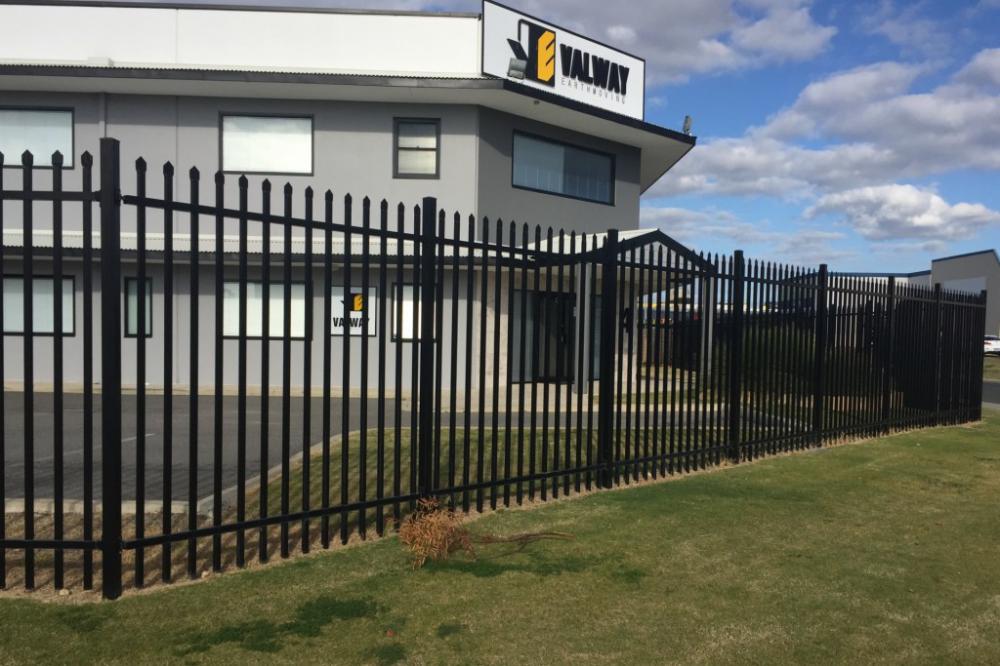 Garrison Fencing & Gates is one of the most trusted and experienced Mandurah fencing contractors in the industry. To help you make sure that you choose the right fencing for your premises, we advise you take a look at the checklist below.
Buying a New Fence: Factors to Bear in Mind
Before you contact any Mandurah fencing contractors, or a contractor in whatever part of the country you happen to live, consider the following three factors carefully:
Privacy - Do you wish to protect your premises from prying eyes to minimise the possibility that casual thieves will spot something of value and be tempted to force an entry? If so, slats or metal pickets are probably your best choice. On the other hand, if privacy is not a major concern, a more conventional type of heavy duty tubular fencing may be more appropriate.
Security - As noted above, for many commercial applications, security is the most important factor as far as perimeter fencing is concerned. Generally speaking, the higher the fencing, the more secure it will be, although there are other factors to take into consideration such as the material from which it is constructed and the spacing of rails or slats.
Appearance - If you are in the market for fencing to be installed around a manufacturing facility, appearance is probably going to be fairly low on your list of priorities. On the other hand, if you are looking for perimeter fencing that will look good at your corporate headquarters, appearance will be of prime importance. Wrought iron is a popular choice for companies that prefer more ornate styles of fencing but powder-coated galvanised steel is a more practical choice that is both good looking, easy to maintain and strong enough to deter even the most determined of intruders.
Specifications
Constructed from heavy duty tubular steel, our Garrison Fencing is pre-galvanised and powder coated to ensure strength, durability and value-for-money.
Standard Garrison Fencing size(s)

Pickets - 25 x 25 x 1.6 (mm)
Rails - 40 x 40 x 2.5 (mm)
Posts - 65 x 65 x 3.0 (mm)
(Double) Gate Posts - 100 x 100 x 4.0 (mm)
Hinges - Heavy duty welded on
Locking - 12 mm galvanised chain welded each gate leaf.
Finish - Powder coated to your colour choice.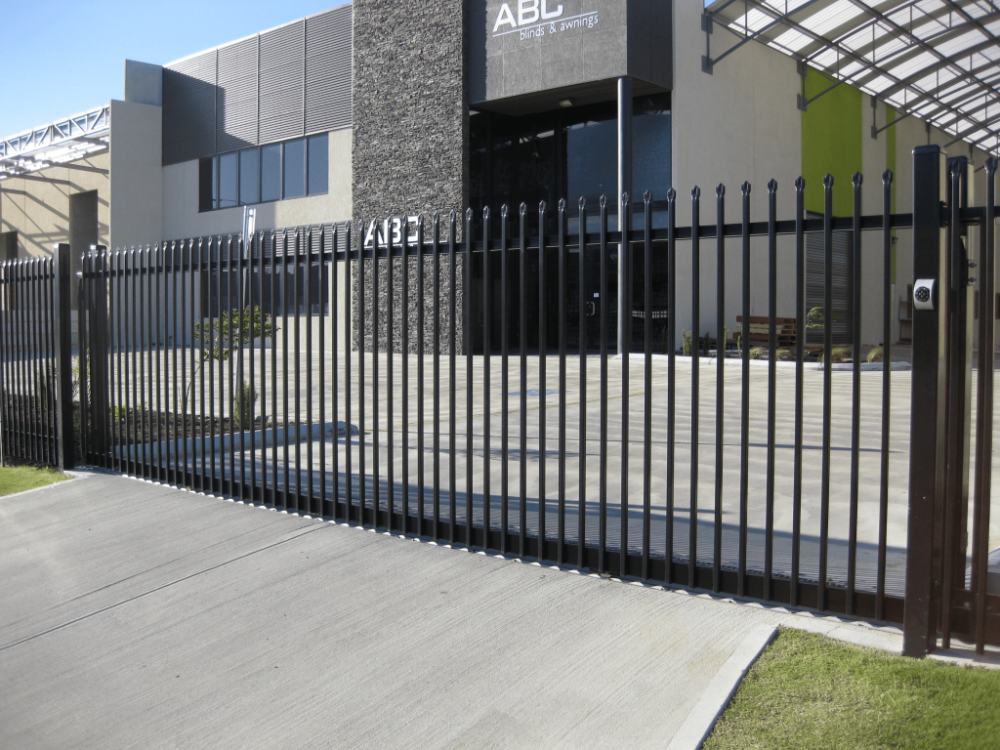 Fence Panels
Standard Garrison panels are 2660 mm (W) x 2165 mm (H) with pickets spaced at 130 mm centers. With a nominal clearance of 100mm above ground level, the overall fence height will be approximately 2265 mm. This height is similar to conventional chain mesh security fence with three rows of barbed wire.
Fence Heights
The standard Garrison panel height is 2165 mm however material specification and dimensions can be varied to meet any architectural or design requirements.


Fence Fixings
14 gauge tech screws
Anti-Tamper tech screws on request.


Gates
Personal Access Gates - Standard size gates suit a 1000 mm opening but the width can be varied as required.
Vehicle Access Gates - Standard size swing style opening gates are made to suit a 3000 mm opening pair. However, Garrison gates are available for any opening dimensions. Very large openings require a heavier frame and post sections.
Custom designs are available and all Garrison gates can be; Swing Gates or Sliding Gates with manual or automatic openings.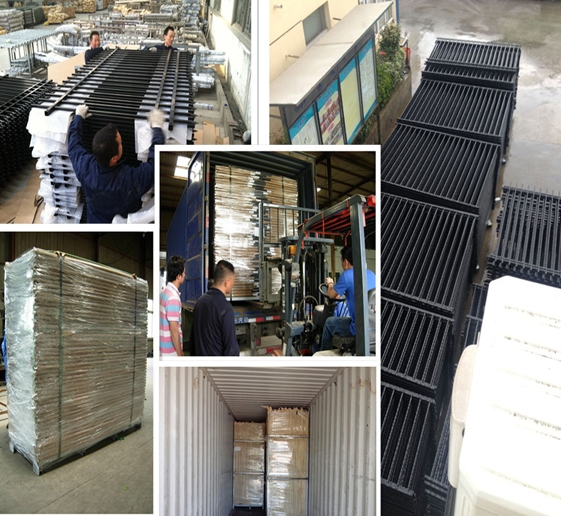 For further information, please feel free to contact us at your convenience. We specialise in the supply and installation of high quality fencing for both domestic and commercial applications, and would be delighted to provide you with a detailed quotation for your requirements.
Our company is located in the biggest wire mesh production base - Anping County, the home town of wire meshes in the worldwide . Now we are one of the leading manufacturers of wire meshes. With reasonable prices and good services, we have got recognition and trust among customers worldwide.
Our main products are all kinds of wire mesh products including Hdg Chain Link Fence Welded Mesh Fencing Temporary Fencing Panel Dog Kennel 3d File Fencing Garden Round Post Fence Panel 868 Double Wire Fencing Panels 358 Security Fence and so on.
Why choose us?
Anping Tuofang Metal Product Co., Ltd. integrates wire mesh research, development, production, sale and after-sales service. We are one of the comprehensive metal product manufacturing companies in the field. TUOFANG is a young, professional, stylish and vibrant high-quality team. We will have good cooperation with our customers. We aim to meet customers' needs (Customer standards is our standard) and have highly efficient cooperation with clients.
Our company regards "reasonable prices, efficient production time and good after-sales service" as our tenet. We hope to cooperate with more customers for mutual development and benefits. We welcome potential buyers to contact us.
Come and choose TUOFANG and share the success!
Services
Quality Products:
We follow the policy of Seeking Development through Qualityand Establishing Reputation via Quality Products. We try to meet customers' requirements with excellent quality products.
Honest Service:
We offer honest service to customers. We provide products with sincere and excellent service and the most prompt delivery.

Innovation:
We have advanced inspection and production equipment and can develop new products to meet the demand of market. We can also accept customized orders. Our strong R&D capability enables us to innovate almost everyday.

We enjoy:
Advanced wire mesh weaving machines; Experienced and well-trained work staff; Quality wire mesh products.
Группа Продуктов : панельные ограждения безопасности > Порошковым покрытием безопасности гарнизон фехтование