Gabion box for rock fall protection

Gabions boxes are wire containers made of hexagonal wire netting. Wire diameter varies with the hexagonal netting. For hexagonal wire netting with no PVC coating, the wire diameter ranges from 2.0mm to 4.0mm. For those PVC coated hexagonal wire netting, the outside diameter ranges from 3.0mm to 4.0mm. The wire of the outside frame edge is one wire gauge thicker than the wire used for hexagonal wire netting.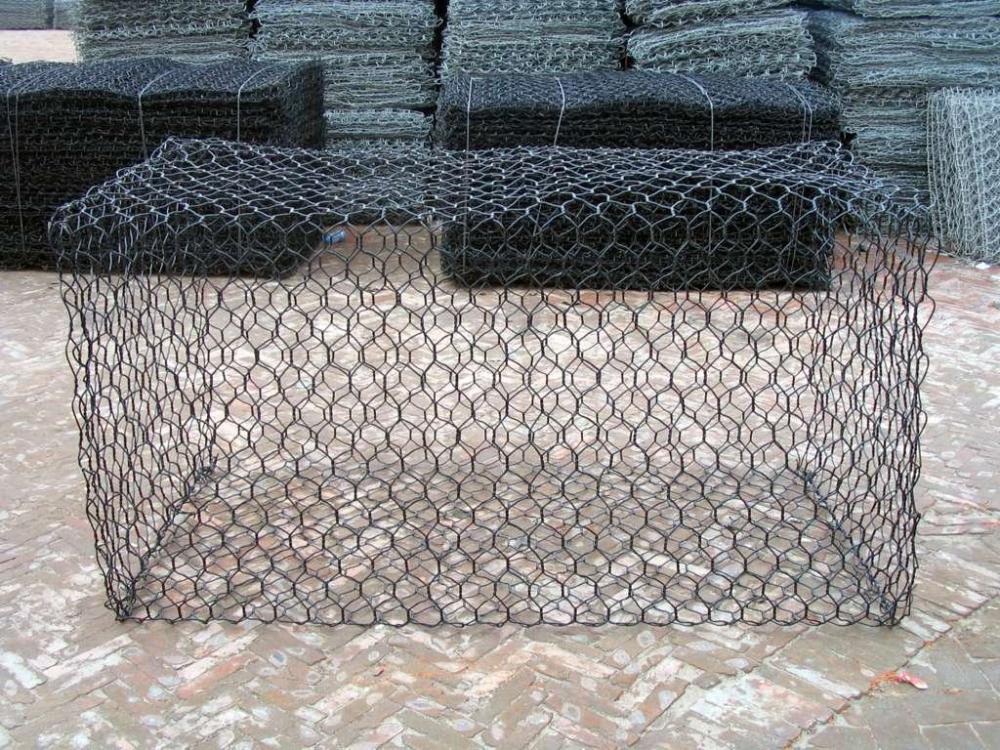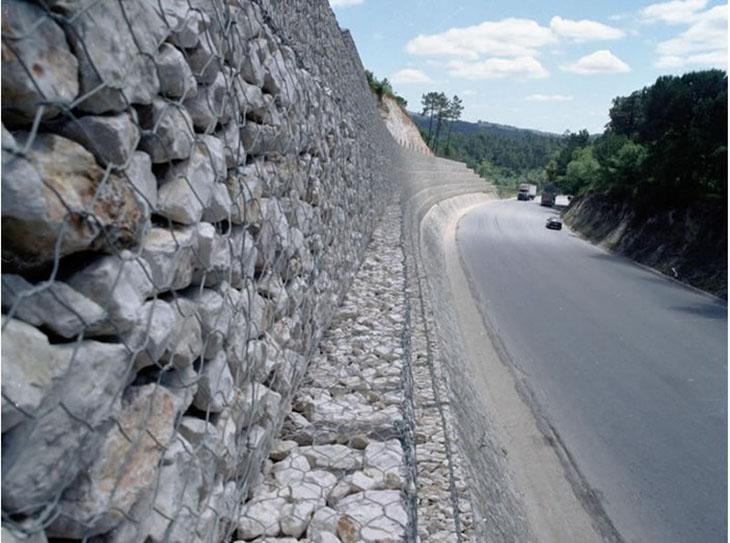 Hot-dipped galvanized Gabion Boxes specifications
Hot-dipped galvanized, thickness of zinc: 245g/m2-275g/m2
Mesh Wire: 3.0mm
Selvedge Wire: 3.9mm
Lacing Wire :2.4mm
Boxes sizes: 2m × 1m × 1m
Weight: 18kgs/pcs
Packing: Plastic outside
Special specifications can be required.
Box-shaped gabions in the world have been used for over 100 years. For the first time as a reinforcing material of construction gabions have been used in France in the early 19th century. It is noteworthy that these early structures are functioning properly until today. Gabion can be used to reinforce slopes, hillsides, embankments, cuttings, gullies, road-bridge structures. In some areas, gabion structures, until recently, had limited application and used only to strengthen the embankment slopes. Experience shows that the construction of gabions is an alternative way to protect road-bridge slopes.
The use of gabion structures is a highly effective and versatile way to not only strengthen the slopes, but also enhance, stabilize and protect the exploited subgrade, bridge supports, regulatory dams, coastal, and other structures. Performing protective functions of fortification, gabion structures can serve as a reverse filter, and in some cases they can be used to provide impervious events.
Currently known and widely used for more than 20 types of building slopes: grass cultivation, planting shrubs, planting, thermal protector and protective layers using geotextiles, prefabricated concrete lattice, clay soils, surface and solid lattice, flexible concrete slabs, prefabricated reinforced flexible grid, precast concrete and reinforced concrete slabs, monolithic reinforced concrete slabs, riprap, and others.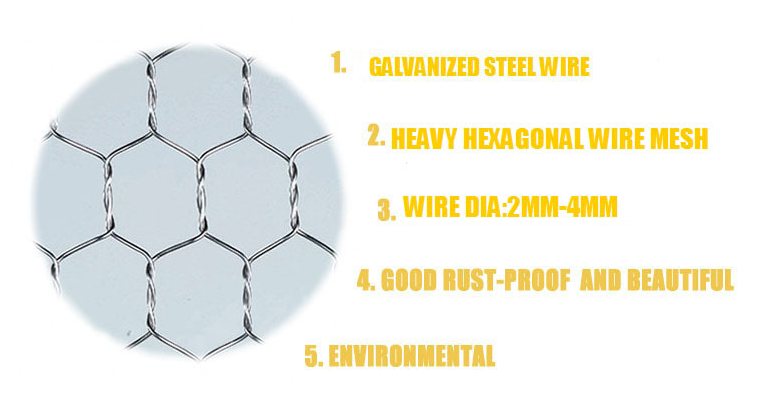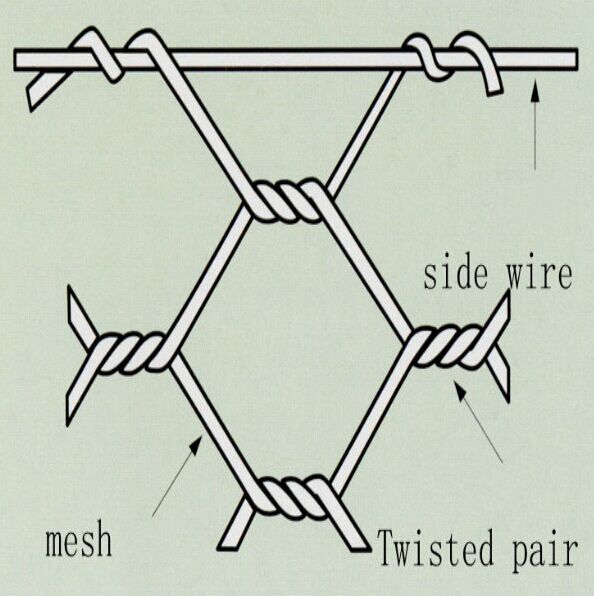 Double twisted Galvanized wire PVC coated
Mesh Type: 10" × 12".
Wire thickness: 2.7 -3.7mm.
Mesh size: 100mm.
Size:1.5m × 1m × 1m and 2m × 1m × 1m (without diaphragm).
Specifications and testing parameters of gabion box:
Mesh Type: 10" × 12".
Mesh size: 100mm.
Tolerance: +16 to -4%.
Diameter: 2.7mm ID /3.7mm OD.
Thickness of PVC coating: Nominal 0.5mm .minimal 0.38m.
Characteristics of components with respect to mesh wire diameter:
Mesh wire: 2.7/3.7mm.
Sledge wire: 3.4/4.4mm.
Lacing wire: 2.2/3.2mm.
Stiffeners: 2.2/3.2mm.
Testing and acceptance:
Material used for production of wire is mild steel as per BS-1052/80 or ASTM-241-92 Class 3 having tensile strength of 350mpa to 500 Mpa. Minimum elongation of 10% at breaking load performed on gauge length of 250mm
Coating: all the wires are heavily zinc coated with hot dipped galvanization process according to ASTM/A-641-82 BS 443-82 with min. zinc coating of 240gms per square meter for the wire of diameter 2mm) additional coating of PVC shall be provided.
Gabion wire size example: Gabion wires with tensile strength 38 - 55kg/mm² according to BS1052 & Zinc coating layer 260 - 300grm/m² according to BS443, mesh wire 2.7mm, selvage wire 3.4mm, and lacing (tie) wire 2.4mm. with gabion cells 60 × 60 × 30cm, opening 30mm.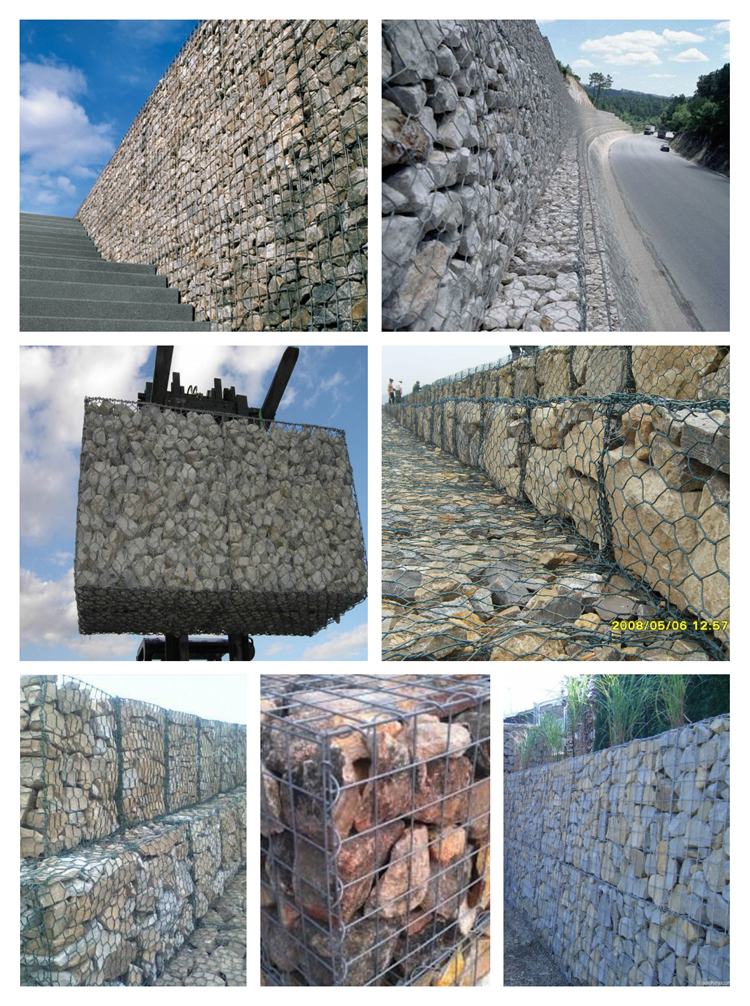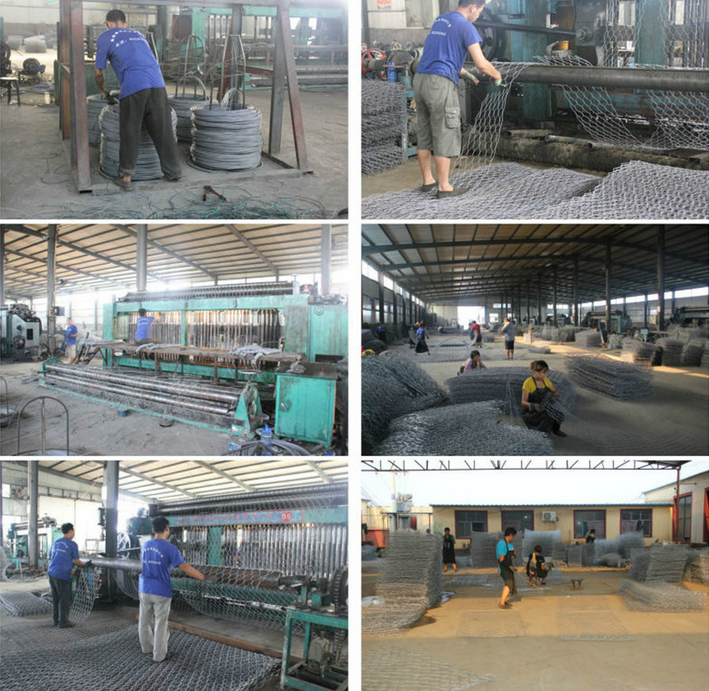 Gabion box application: Bank stabilization; Reinforcement of soils; Strengthening of slopes and embankments; Protection against rockfalls, avalanches, debris flows; - Retaining walls; Protection of subsea pipelines; Landscape Design; Strengthening of the bottom waters and sea ports.
Contact us today!
We welcome your questions and queries. Please see our Contact Us page for complete contact information.
Our company is located in the biggest wire mesh production base - Anping County, the home town of wire meshes in the worldwide . Now we are one of the leading manufacturers of wire meshes. With reasonable prices and good services, we have got recognition and trust among customers worldwide.

Our main products are all kinds of wire mesh products including Chain Link Mesh Fence,Straight Line Razor Wire,Pvc Coated Gabion Baskets,Temporary Fencing Panel,3d Powder Coated Fence,656 Twin Wire Mesh Fencing Panels,Round Metal Post Fence Panel,Garden Square Post Fence Panel and so on.



Why choose us?
Anping Tuofang Metal Product Co., Ltd. integrates wire mesh research, development, production, sale and after-sales service. We are one of the comprehensive metal product manufacturing companies in the field. TUOFANG is a young, professional, stylish and vibrant high-quality team. We will have good cooperation with our customers. We aim to meet customers' needs (Customer standards is our standard) and have highly efficient cooperation with clients.

Our company regards "reasonable prices, efficient production time and good after-sales service" as our tenet. We hope to cooperate with more customers for mutual development and benefits. We welcome potential buyers to contact us.

Come and choose TUOFANG and share the success!



Services
Quality Products:
We follow the policy of Seeking Development through Qualityand Establishing Reputation via Quality Products. We try to meet customers' requirements with excellent quality products.
Honest Service:
We offer honest service to customers. We provide products with sincere and excellent service and the most prompt delivery.




Innovation:
We have advanced inspection and production equipment and can develop new products to meet the demand of market. We can also accept customized orders. Our strong R&D capability enables us to innovate almost everyday.




We enjoy:
Advanced wire mesh weaving machines; Experienced and well-trained work staff; Quality wire mesh products.



Группа Продуктов : Габионные корзины > HDG габионных корзины