Hot Dipped Galvanized Rock Fall Netting

ock fall Steel Wire Netting are factory manufactured rolls made up of mechanically double twisted hexagonal wire mesh using Heavily Galvanized steel wire. Mechanically woven double twisted meshes are non raveling and the edges of the mesh are reinforced with a thicker wire called the selvedge/edge wire. These nets are used to prevent small size boulders or rocks from falling in road ways, the mine, the water and electricity project, the tourist site, the river course and in the municipal engineering, thus minimizing loss of property or life. In case of applications in marine or highly corrosive environment, an additional protection is provided by extruding 0.5mm thick PVC coating over the heavily galvanized wire. The main advantages over other types of mesh are the features of flexibility, non-raveling design, superior corrosion resistance and unique mechanical characters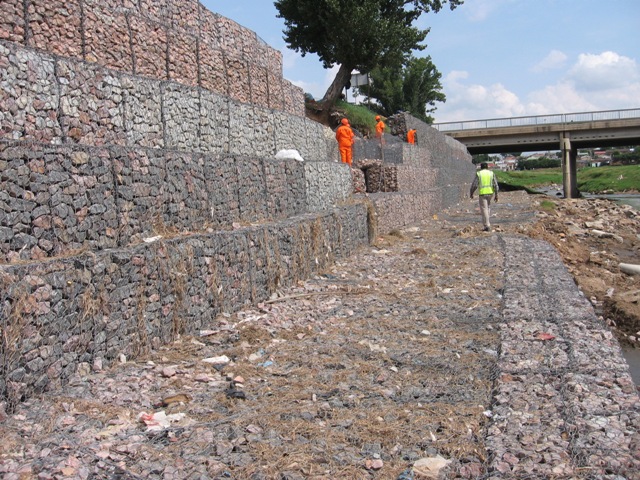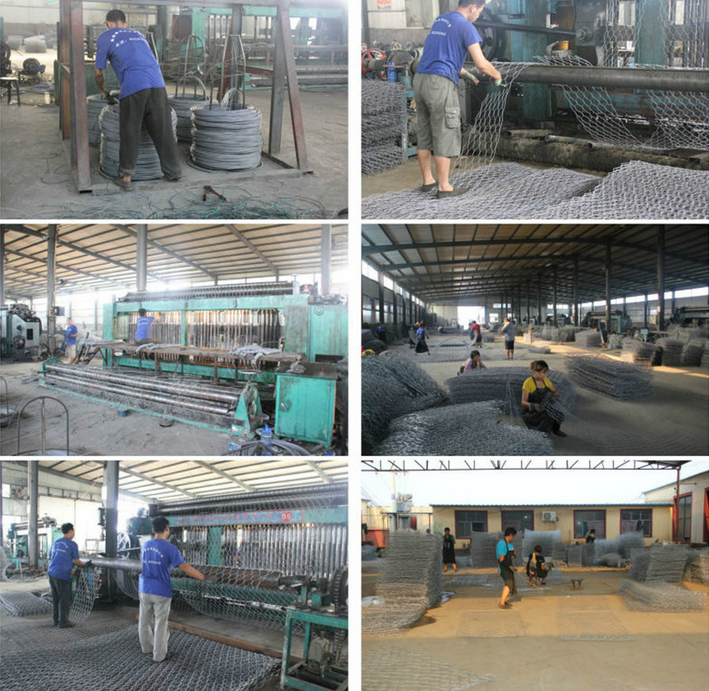 Erosion control blankets provide a mechanically stabilized form of immediate cover, functioning as a barrier against both the detachment and transportation phase of erosion process until vegetation or reinforced vegetation assume this
SPECIFICATION
MESH SIZE: The mesh openings shall be hexagonal and of a nominal dimension of 80mm x 100mm.
MESH WIRE: The nominal wire mesh diameter for the body of the netting shall be 2.7mm in diameter and of a nominal 3.40mm for the edge selvedge wire. All wire shall be in accordance with BS EN 10218-2:1997. The tensile strength falls within a range of 350 to 575 N/mm2. CORROSION Wire shall be zinc coated to BS EN10244-2 2001. An additional extruded u-PVC
PROTECTION: coating of nominal 0.5mm radial thickness is applied over the galvanised wire.
JOINTING: Rock netting shall be provided with lacing wire or stainless steel [C" rings for site assembly. The lacing wire shall be of a nominal wire diameter of 2.2mm (all in accordance with the corrosion protection specified) for final jointing.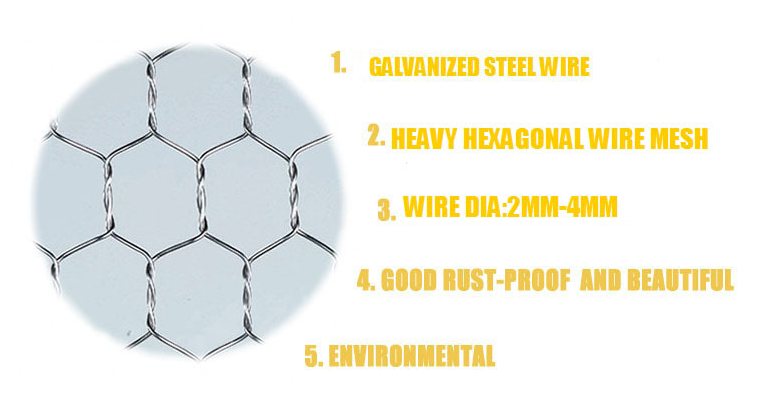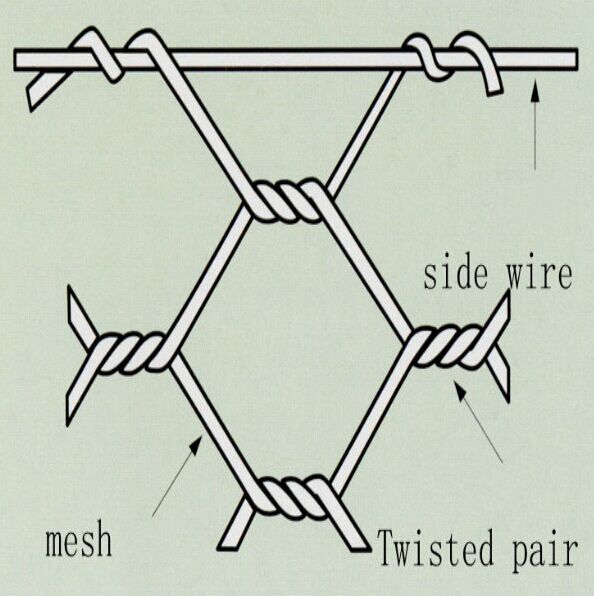 Features
Economic. Just fill the stone into the gabions and seal it.
Simple installation. No special technology needed.
Weather proof under natural destroy, corrosion resistant.
No collapse even under big scope of deforming.
Sludge in the stones is good for plant growing. Mixed to form a integrity with the natural environment.
Good permeation can prevent the damage by hydrostatic.
Less transport freight. It can be folded together for transport and further installation.
Applications
Control and guide of water or flood
Flood bank or guiding bank
Preventing of rock breaking
Water and soil protection
Bridge protection
Strengthening structure of soil
Protection engineering of seaside area
Contact us today!
We welcome your questions and queries. Please see our Contact Us page for complete contact information.
Our company is located in the biggest wire mesh production base - Anping County, the home town of wire meshes in the worldwide . Now we are one of the leading manufacturers of wire meshes. With reasonable prices and good services, we have got recognition and trust among customers worldwide.
Our main products are all kinds of wire mesh products including Chain Link Mesh Fence,Straight Line Razor Wire,Pvc Coated Gabion Baskets,Temporary Fencing Panel,3d Powder Coated Fence,656 Twin Wire Mesh Fencing Panels,Round Metal Post Fence Panel,Garden Square Post Fence Panel and so on.
Why choose us?
Anping Tuofang Metal Product Co., Ltd. integrates wire mesh research, development, production, sale and after-sales service. We are one of the comprehensive metal product manufacturing companies in the field. TUOFANG is a young, professional, stylish and vibrant high-quality team. We will have good cooperation with our customers. We aim to meet customers' needs (Customer standards is our standard) and have highly efficient cooperation with clients.
Our company regards "reasonable prices, efficient production time and good after-sales service" as our tenet. We hope to cooperate with more customers for mutual development and benefits. We welcome potential buyers to contact us.
Come and choose TUOFANG and share the success!
Services
Quality Products:
We follow the policy of Seeking Development through Qualityand Establishing Reputation via Quality Products. We try to meet customers' requirements with excellent quality products.
Honest Service:
We offer honest service to customers. We provide products with sincere and excellent service and the most prompt delivery.

Innovation:
We have advanced inspection and production equipment and can develop new products to meet the demand of market. We can also accept customized orders. Our strong R&D capability enables us to innovate almost everyday.

We enjoy:
Advanced wire mesh weaving machines; Experienced and well-trained work staff; Quality wire mesh products.
Группа Продуктов : Габионные корзины > HDG габионных корзины