Ecological gabion retaining wall

Each gabion is securely connected to adjacent gabion durable galvanized wire mesh so that the whole structure can withstand large loads (erosion, wave, ice, ground pressure of the masses).
During the operation, as opposed to concrete, gabions are not subject to destruction and cracks, due to design flexibility, which in turn allows the construction of easily accept a draft of the soil. Even the strong erosion of soil erosion at the base of gabion construction leads, often, only a slight deformation without causing loss of strength and fracture. Over the years the strength of metal mesh structures increases, due to the natural germination of plant roots. Over time, merging with the environment, mesh construction, with proper design solution can serve an unlimited term, have a kind of natural blocks, perfectly fit into the landscape, becoming a single entity with him, maintaining and enhancing it. Gabion - are beautiful, durable, environmentally friendly and fun!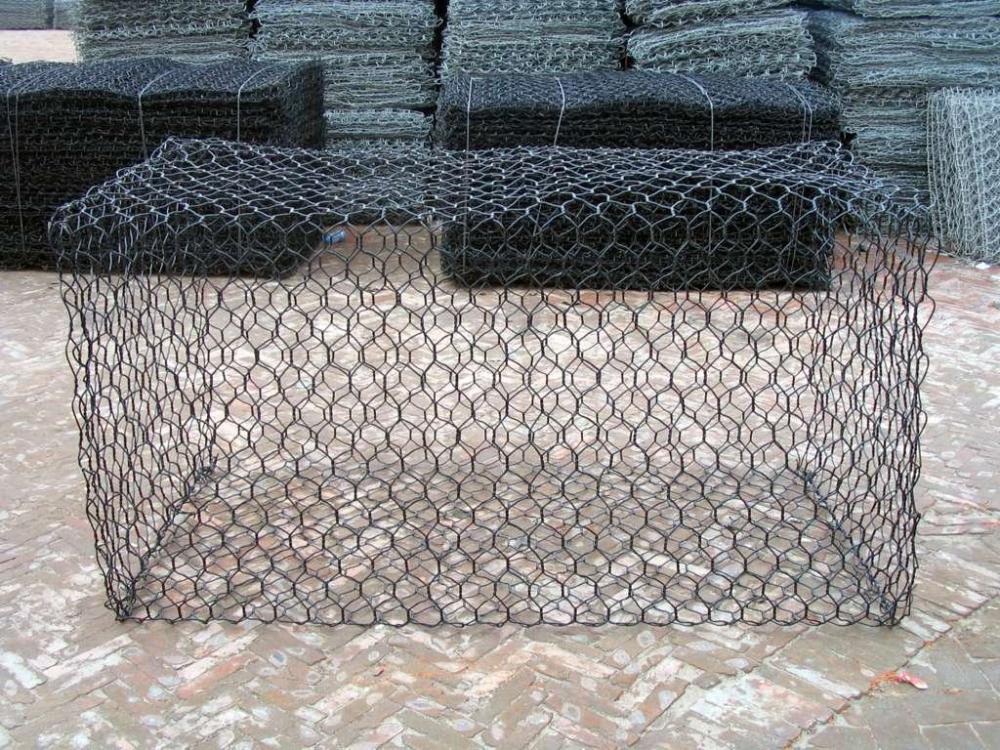 Gabions are an alternative to concrete structures and have several advantages.
•
Permeability:
Water easily penetrates through the gabions, without creating undue pressure on the structure and no effect on the hydrology.
•
Flexibility:
Under the influence of variable loads, gabion can be deformed without being destroyed. Where can crack concrete structure, gabion "adjusts" to changes in topography.
•
Reliability and durability:
Applied Materials, as well as high strength braided mesh, provide long service life of gabions.
•
Environmentally friendly:
Over time, gabions, used for strengthening, for example, the riverbed will accumulate algae, human pathogens, cleaning the water.
•
Aesthetics:
Over time, the gabion may accumulate soil in which to grow plants, improving the appearance of gabion structures.
•
Cost of manufacturing and installation:
gabions delivered to the installation site in the folded (effective transportation), and filled with stones (effective installation).
Gabion widely used in
building due to its ease of use - you only need to fill with rocks or pebbles.
It is used for the erection of fences, fences, walls, dams, the construction of dams decorative pools, ponds. During the construction of dams to enhance river beds during the construction of embankments, strengthening the banks of rivers and reservoirs to prevent landslides and the collapse of the banks.
It is intended to strengthen
the slope for landscaping and home gardens, laid on top of the gabion may blow sand or soil, planting. Performs the function of natural convection and metabolism and is very environmentally friendly material.
Gabion can be made of galvanized steel mesh with hexagonal cell of the grid or PVC coated. In addition, gabion can be reinforced with steel rebar - available on request.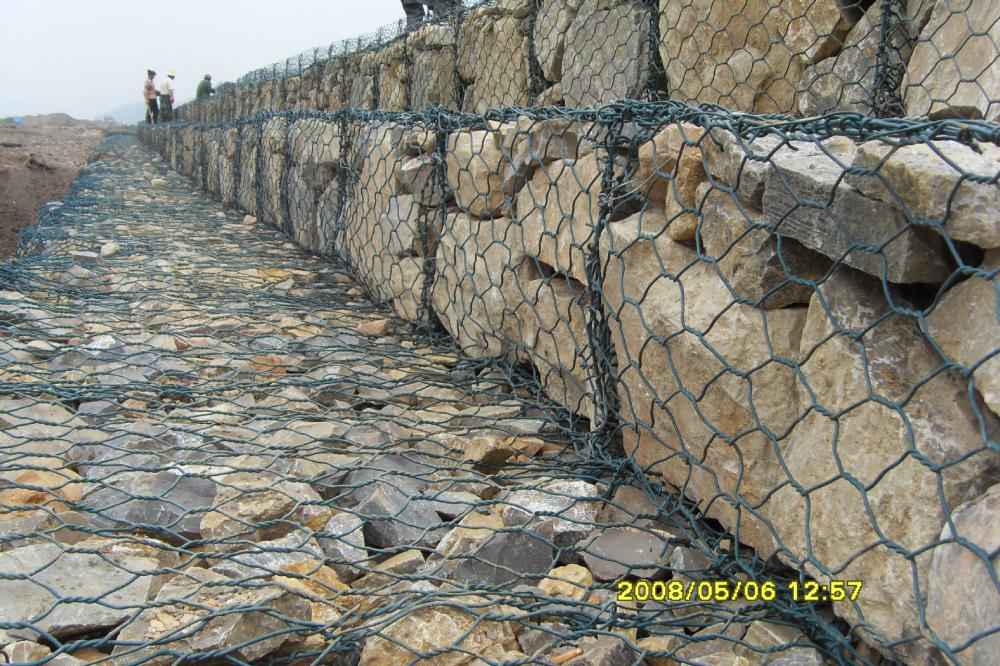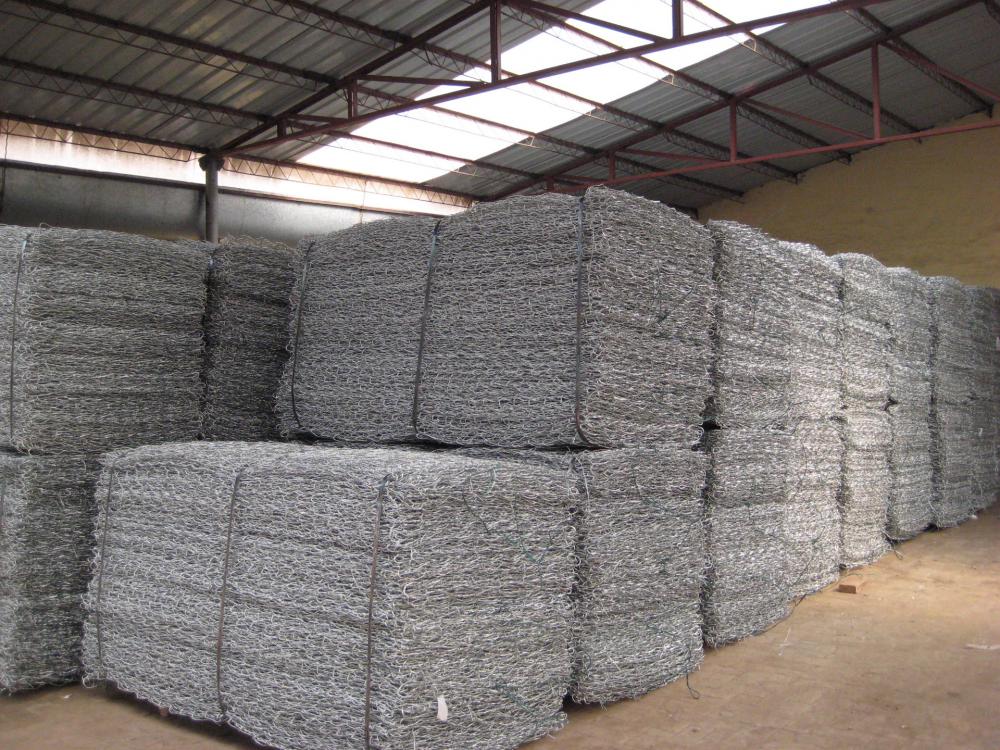 Types of gabion structures
by shape.
• Gabion boxes - rectangular design width and height, usually 1 m and a length of 4 m. For the strength of long box divided internally by transverse diaphragms.
• Reno Mattress - rectangular design of large area and low altitude, usually from 17 to 50cm for the strength of long mattresses are also divided internally by transverse diaphragms.
• Gabion sack - a cylindrical structure. For the strength of long boxes are also divided internally by transverse diaphragms.
By type of coating applied:
- coated with zinc; - coated with zinc and polymer; - coated with an alloy of zinc and aluminum and misch metal; - coated with an alloy of zinc and aluminum and misch metal and polymer.
The use of gabion structures
Gabion structures are effectively used in the following occupations:
• Construction of flyovers and bridges
• Construction of dams, embankments of railways, retaining walls.
• Strengthening the protection of slopes and rockfall
• Consolidation and bottom waters
• Prevention of soil erosion.
Our gabion products are supplied in a folded state in packages weighing 500-600lbs. (15-30 pieces per package), easy to carry.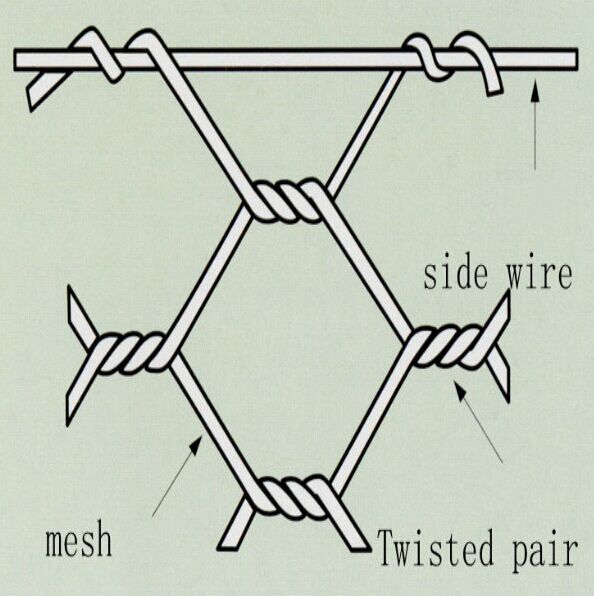 How to Check the quality of gabion mesh products?
1. Twist defects, ligaments, strapping and ties mesh container gabion, diaphragms are determined visually by inspection;
2. Determine the size of the cell between twist on opposite sides of the hexagon in three places, gabion mesh products with an accuracy of 1mm. One of the measuring sites chosen in the middle of the gabion, the other two on the edges of at least two cells from the edge of the gabion. In each of the measuring sites check the dimensions of ten consecutive cells;
3. Metal corrosion protection of wire should be robust and withstand at least 5 turns of coiling in the rod with a diameter equal to 3 m diameter wire should not crack and break down to such an extent that can be removed with the fingers;
4. The coating material should not significantly change its color when exposed to ultraviolet rays;
5. Tensile strength at break of nets corresponds to the test load at which the rupture of one of the wires of the control sample grid. The control sample wire mesh should be 2 meters long and 1 m wide, and have one of two grid cells cut wire. Tensile tests of the control sample wire mesh should be made on a hydraulic tensile bench. Half of the sample area of the grid (in length) is crimped to a fixed support, controlled by a uniformly distributed load is applied to the mobile tower, which secured second edge of the grid. When testing should not change the geometrical dimensions of the grid in width;
6. Length, width and height of gabion measuring tape at any point or line with a scale of 1mm.
Contact us today!
We welcome your questions and queries. Please see our Contact Us page for complete contact information.

Our company is located in the biggest wire mesh production base - Anping County, the home town of wire meshes in the worldwide . Now we are one of the leading manufacturers of wire meshes. With reasonable prices and good services, we have got recognition and trust among customers worldwide.

Our main products are all kinds of wire mesh products including High Security 3510 Mesh Fencing 3 Bends Welded Mesh Fence Iron fencing Chain Link Fence Netting Temporary Fence Mobile Fencing 868 Twin Wire Fencing Panels Security Garrison Fencing Hot Dipped Galvanized Dog Kennel and so on.



Why choose us?
Anping Tuofang Metal Product Co., Ltd. integrates wire mesh research, development, production, sale and after-sales service. We are one of the comprehensive metal product manufacturing companies in the field. TUOFANG is a young, professional, stylish and vibrant high-quality team. We will have good cooperation with our customers. We aim to meet customers' needs (Customer standards is our standard) and have highly efficient cooperation with clients.

Our company regards "reasonable prices, efficient production time and good after-sales service" as our tenet. We hope to cooperate with more customers for mutual development and benefits. We welcome potential buyers to contact us.

Come and choose TUOFANG and share the success!



Services
Quality Products:
We follow the policy of Seeking Development through Qualityand Establishing Reputation via Quality Products. We try to meet customers' requirements with excellent quality products.
Honest Service:
We offer honest service to customers. We provide products with sincere and excellent service and the most prompt delivery.




Innovation:
We have advanced inspection and production equipment and can develop new products to meet the demand of market. We can also accept customized orders. Our strong R&D capability enables us to innovate almost everyday.




We enjoy:
Advanced wire mesh weaving machines; Experienced and well-trained work staff; Quality wire mesh products.



Группа Продуктов : Габионные корзины > HDG габионных корзины